How do I sign up/renew my membership with Pet Lovers Centre?
Step 1: Apply for a VIP card at the Pet Lovers Center or The Pet Safari.
Step 2: Activate your VIP card through our website.
Step 3: Follow the instructions on the screen. Enter your registration code and mobile phone number.
Step 4: Enter the One Time PIN (OTP) sent to your mobile phone via SMS.
Step 5: Activate your VIP card by filling in your personal information and clicking "Submit".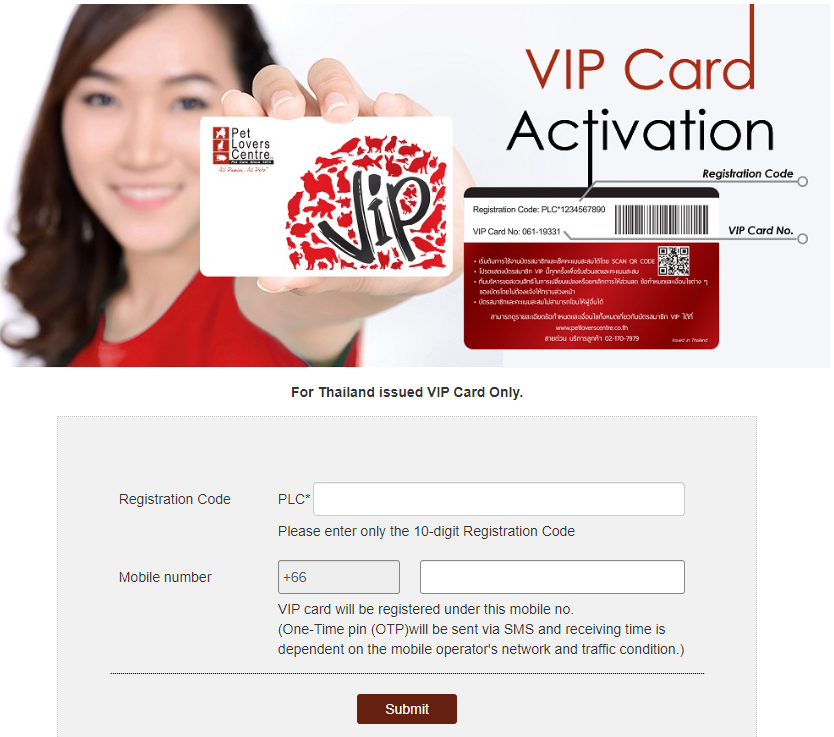 If you change your mobile phone number Please update us by calling the Customer Care Hotline 02-170-7979 as all membership systems are linked to your mobile phone number.
You may also apply or renew on Pet Lovers Centre website.

*Please note we will not issue new membership card for renewal*
1 year membership fee
Free (for new stores within 6 months) / Renew membership for purchases or cumulative receipts worth 1,200 baht over a period of 4 weeks.
• Membership fee 100 baht for new members. (no minimum purchase required)
• Membership fee 100 baht for membership renewal (purchase less than 1,200 baht)